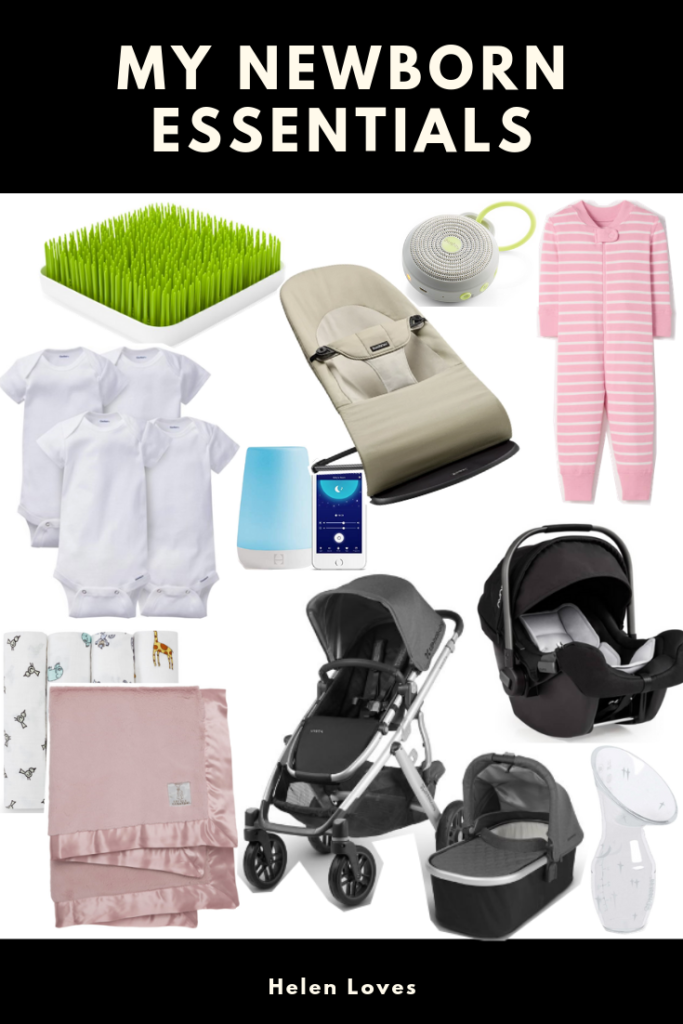 I've talked a lot about what to expect with a newborn, and other thoughts on adding a new human to your life! So today I wanted to share the essential baby items that we have loved in the newborn stage.
I read a lot of blog posts with items you should register for – and I asked friends and family what they used the most. Needless to say, there are SO many options! Also, what works for one kid might not work for the next. But I wanted to share what worked for us! (We tried to keep things minimal to cut down on clutter)
Clothes & Blankets
Zipper sleepers & sleep gowns – snaps in the middle of the night are SO ANNOYING. Zippers are so much easier! We also love sleep sacks that are open on the bottom.
Halo Swaddle Blanket – we tried to swaddle with swaddle blankets but she would literally spend 30 minutes trying to get her hands out (and succeeding). So we used this swaddle blanket with velcro and she loves it! When we put it on her she knows it's bedtime or naptime and actually calms down. We have multiple now in case we have a middle of the night blowout! (Which happens quite frequently haha)
White onesies – we received boxes of clothes from a friend, but these have been used everyday. They are so easy to clean and super affordable!
LOTS of blankets! – These Little Giraffe Blankets are our favorite for daytime! They are so cozy and she loves being wrapped in them when we're holding her. You really can't have too many blankets with a newborn – these are our favorite lightweight blankets and these are great for lots of uses. It goes without saying that you can't use these when she's sleeping. We only use them when we're holding her or when we're out and about.
Gear
Nuna Carseat – I cannot overstate how much we love this carseat. It's SO light and easy to put into our car. We have also used it without the base and that install took under 5 minutes! Highly highly recommend.
Uppababy Stroller – walks are essential to get out of the house, and we are obsessed with this stroller. She loves the bassinet and we can also use it with our carseat! (With this adapter) It is pricey but the quality is worth it. She also sleeps in the bassinet in our room at night, so we're getting a lot of use out of the entire system.
Boon drying rack – Even with nursing you go through a lot of gear! Milk storage for the fridge and pump parts need to get washed – and this rack is the easiest to use and super cute.
Haakaa pump – buy.this.now. and catch all that letdown you would have lost! This is always by my side when nursing and I can't overstate how handy it is. I've also used this as a manual pump when I didn't have a way to pump in my electric pump – like our day date at Keeneland haha.
Hatch nightlight – It puts out a lot of light and is so easy to turn on quickly. I can also control from my phone if I'm in another room. I really think the white noise helps her sleep! We will move it into her nursery when she moves out of our room. We also have this portable noise maker that we are using now in her crib for naps.
Baby Bjorn bouncer – ok this is expensive but amazing. It's small and lightweight and she can already bounce herself just by kicking. We can move it around the house so she can hang by us, and she will gladly sit there for long periods of time! I just got this bar to add to it for her to play with (it was cheaper than the one made for it), and she loves that too. Highly highly recommend!!!
Solly wrap – she loves being in this wrap and falls asleep instantly when in it. We've used it while walking, at a distillery tour, and other times when she's fussy but we want to use our hands. It has a bit of a learning curve to wear it, but it's super comfy once you get the hang of it.
---
Ok so I guess this is a fairly long list! I mean you can go all out but it's nice to stick to the essentials. The true essentials for me are carseat, stroller, swaddles and sound machine. Everything else is an add-on that may or may not work for your situation or baby. Plus they grow so quickly it's not worth buying a ton for any phase – which is why we've tried to be minimalistic where we can be.
Let me know if you have any questions on the items – I'm going to do a more detailed review of our stroller, so check back for that in the coming weeks!